Flying Blue Promos for February 2020
AirFrance/KLM earlier this month published its Flying Blue Promo Rewards, which allow you to travel to certain destinations for as much as half off the usual award rates. The Promo Rewards must be booked by Feb. 29 and are valid for travel from April 1 through May 31.
February Flying Blue Promo Rewards
Although the standard discount is 20%-40% off of short-haul flights, this month all short-hauls are discounted by 40%. (Short-hauls are intra-European flights.)
However, given the abundance of low-cost carriers in Europe, it seldom makes sense to use miles for these short flights. Instead, use your miles to book intra-European flights when prices are unusually high or you have a lot of luggage, which low-cost carriers usually charge for.
Long-haul awards are on sale for 25%-50% off, and these awards can offer some pretty enticing options.
Flying Blue Promo Rewards can be booked as one-way tickets, which means you can travel from one city and come back to another. The flexibility afforded by booking one-ways can present some excellent opportunities for crafting trips. For simplicity's sake, however, the awards we discuss below are all round trips.
Let's look at some of this month's more exciting Flying Blue Promo Rewards options.
25%-50% off Europe to/from North America
economy, premium economy and business class

Round-trip awards offered at a 50% discount include those from Boston or Mexico City to Europe. Considering that AirFrance/KLM includes pesky taxes and surcharges on awards, the best bang for your buck will come from awards that provide the largest discount in miles.
Boston to Amsterdam
Amsterdam is an incredibly beautiful city, and if you make your way there in April or May, you can experience tulip season in Keukenhof garden in nearby Lisse. This is a popular time to visit Amsterdam, so if you're considering going, you'll want to book your award sooner than later.
A sample round-trip flight award from Boston to Amsterdam is only 21,500 Flying Blue points plus about $167 in taxes.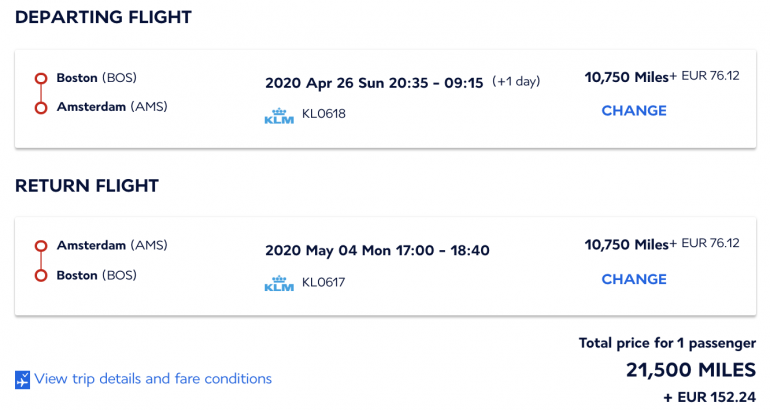 On Skyscanner, the same flight prices at $740, which results in a solid redemption value of 2.7 cents per mile.

For comparison, a round-trip flight from Boston to Amsterdam on United Airlines costs 58,500 miles + $59 in taxes. And American Airlines currently has a Web Special going on for this route, with the cheapest round-trip award during similar dates in April or May costing 34,000 AAdvantage miles + $59.
If you're willing to overlook the incremental $108 that you'll be spending to cover the taxes on AirFrance/KLM, you'll get a solid savings in points by booking this Promo Rewards deal.
Mexico City to Paris
Another solid redemption is a premium economy award between Mexico City and Paris-Charles de Gaulle, which is discounted by 50%. Springtime in Paris is wonderful, and spending the entire 11-hour flight in premium economy is a great option.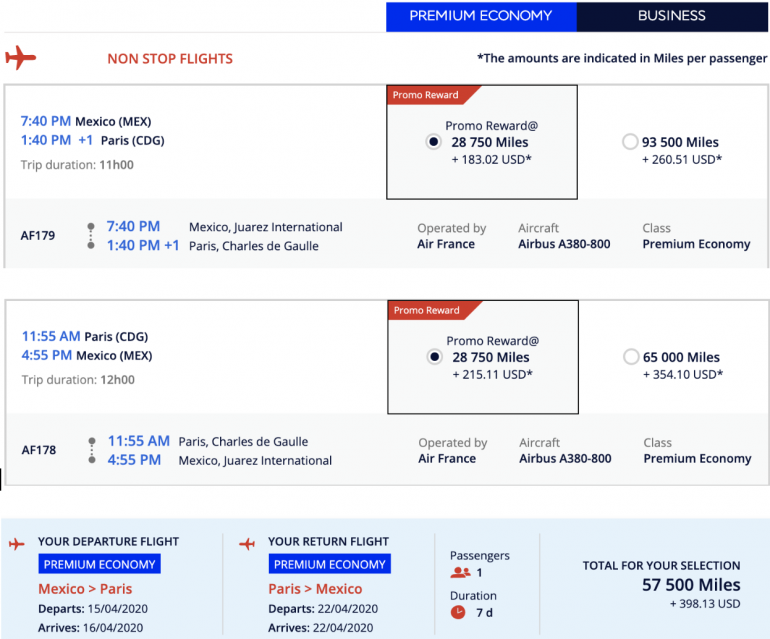 A round-trip award from Mexico City to Paris-Charles de Gaulle is 57,500 Flying Blue points and $398 in taxes. Although the taxes seem high here, it's important to consider the price of this ticket if you paid in cash.

On Skyscanner, that long flight is $1,823, which yields a solid value of 2.5 cents per mile. Although neither option is cheap, if you're already planning a trip between Mexico City and Paris, this offer might be for you.
50% off Europe to/from Bahrain
business class
If you're thinking of heading to the Middle East, business class awards between Europe and Bahrain are on sale for 50% off. Bahrain is an island nation in the Persian Gulf. Not only is it beautiful to experience on its own, but it also serves as a jumping-off point for many other places to visit in the region.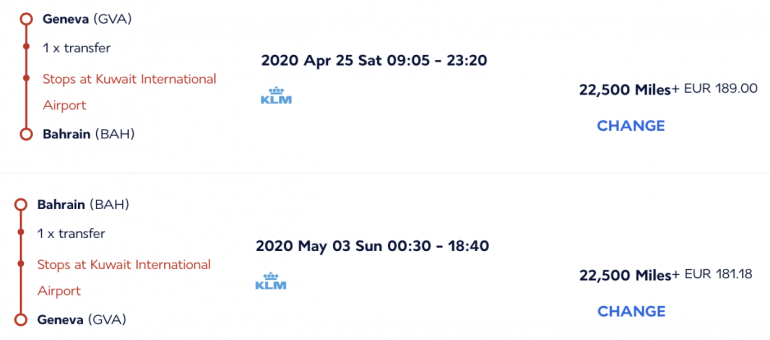 A round-trip business class award from Geneva to Bahrain is only 45,000 Flying Blue miles plus about $406 in taxes.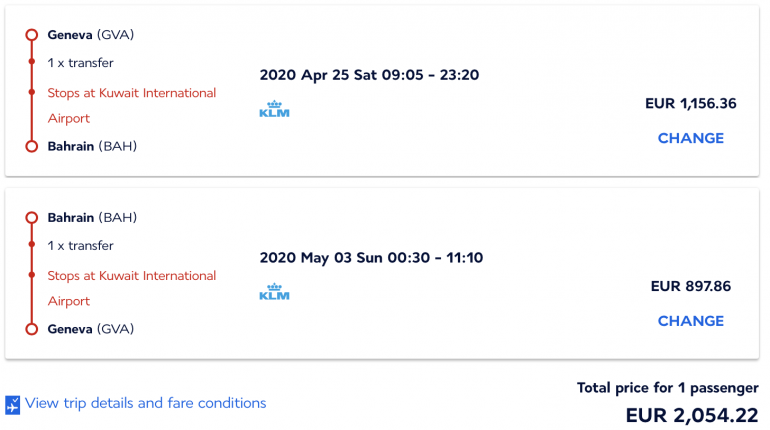 A search on the AirFrance website prices this flight at about $2,256, which results in an excellent redemption value of 5.1 cents per mile if you use points.
Comparatively, United charges 100,000 miles plus $55 in taxes and American Airlines charges 85,000 miles plus $68. Although AirFrance/KLM includes significantly more for taxes than United and American, the significant discount in miles is worth considering, particularly if you're looking to extend the life of your Flying Blue miles.
Earning Flying Blue Miles
Capital One Venture points transfer at a 2:1.5 ratio (2,000 Capital One Venture points = 1,500 FlyingBlue miles), so unless there is a promo on transfers, this isn't the most lucrative ratio.

Marriott Bonvoy points transfer at a 3:1 ratio (3,000 Bonvoy points = 1,000 Flying Blue miles), and with every 60,000 points transferred you will earn a 5,000-mile bonus (60,000 Bonvoy points = 25,000 Flying Blue miles).
The bottom line
Flying Blue Promo Rewards offer an opportunity to take advantage of reduced award tickets during the promotional period. If you're considering a trip in April or May, browse through these Promo Rewards in case your vacation plans align with a city currently on sale.
Although AirFrance/KLM charges annoying taxes and surcharges on award tickets, you'll save a significant number of miles, especially when compared to competing airlines. If you don't have points in your Flying Blue account, AirFrance is a partner of all five transferable programs, so it is very easy to take advantage of these discounted awards.
The information related to the Citi Premier℠ Card, Citi Prestige® Card and American Express Chairman has been collected by NerdWallet and has not been reviewed or provided by the issuer or provider of this product or service.
How to Maximize Your Rewards