How to Maximize Your Points and Miles This Holiday Season
The holiday shopping season is upon us, and with it comes an opportunity to maximize points, miles and savings. Whether you're celebrating the holidays or taking advantage of massive holiday-themed sales, now is a good time to create a strategy and get the most out of your spending. Here are some ways to maximize points and miles this holiday season.
Use the right credit card to buy gifts
According to an American Express survey, 37% of Americans plan to buy 10 or more gifts, while 74% plan to spend the same amount or more than they spent last year. If you fall into either bucket, credit card companies want your business — and they're offering quite a few incentives to get it. For example, the Chase Freedom® and Discover it® Cash Back are both offering 5% cash back this quarter on popular retailers to make holiday shopping more rewarding.
The Chase Freedom® is offering 5% cash back on the first $1,500 spent at department stores and on purchases made using Paypal or Chase Pay. That opens up many possibilities for maximizing that bonus. The offer must be activated by Dec. 14, 2019, and is valid through the end of the year.
If you have a Discover it® Cash Back card, you'll earn 5% cash back on the first $1,500 spent at Amazon, Target and Walmart.com. This is perfect for people who line up for Black Friday deals as well as those who prefer to skip the ruckus by shopping online. Cardholders can earn 5% cash back at different places each quarter like gas stations, grocery stores, restaurants, Amazon.com and more up to the quarterly maximum, each time you activate.
An often-overlooked program for holiday shopping is AmEx Offers, which is a year-round program offering discounts on everything from travel to retail and even utility bills. Login to your American Express account and scroll down to the "AmEx Offers and Benefits" section to see what you've been targeted for.
You may see offers from popular merchants like Toms and high-end retailers like Salvatore Ferragamo and Tory Burch. It's absolutely worth checking your offers to see if there is an opportunity to maximize points and save money on holiday shopping.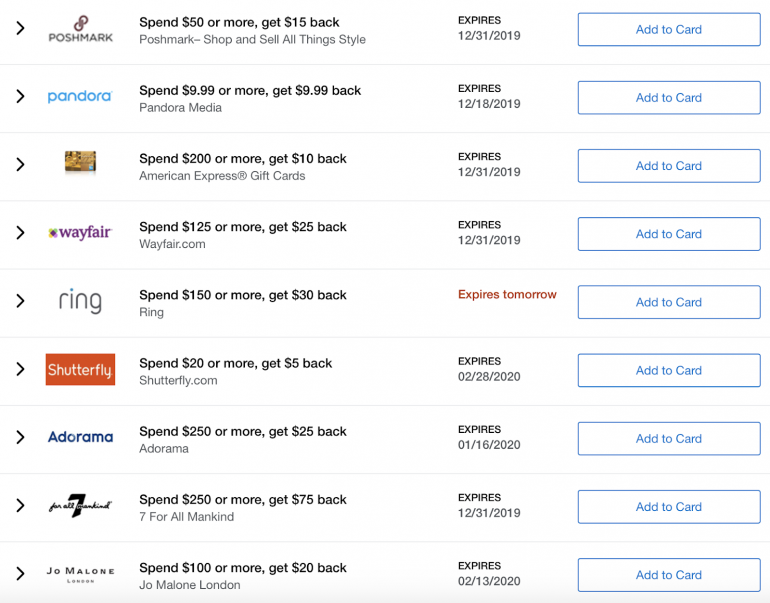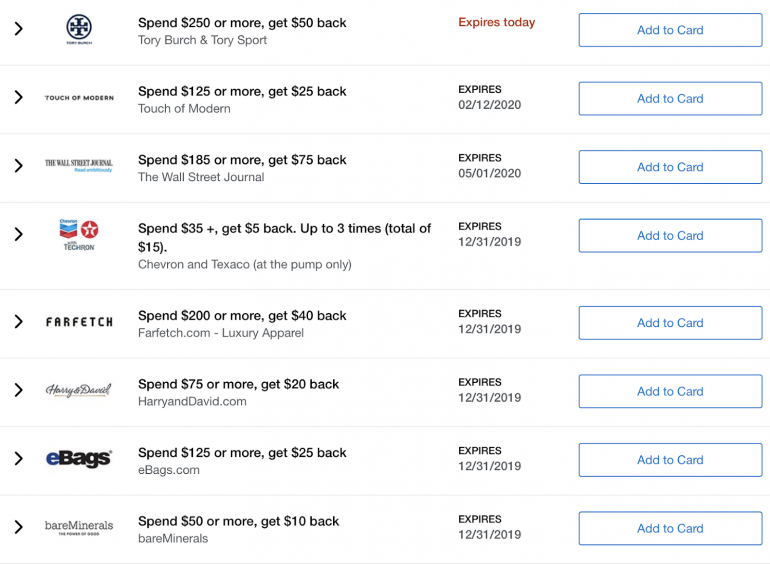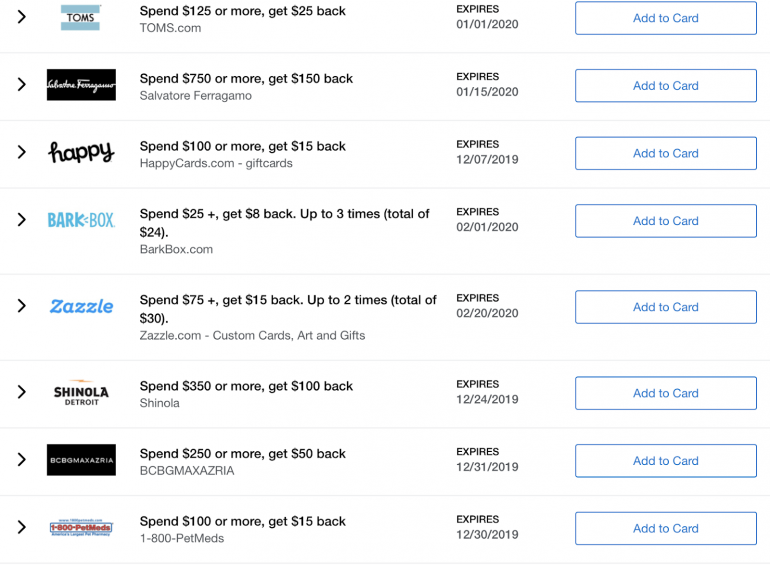 Use a shopping portal
This applies to all year-round shopping, yet it's easily overlooked: If you're shopping online this holiday season, use shopping portals to earn extra points, miles and cash back. Do a quick Google search — chances are your favorite frequent flyer or hotel rewards program has an online shopping portal through which you can earn bonus miles this holiday season.
We're not just talking about an extra mile or more per $1 spent; some portals are offering additional bonus points for meeting certain spending thresholds. For example, American Airlines AAdvantage eShopping was offering up to 3,500 bonus miles on purchases made through Nov. 21, 2019.


While these deals have ended, another offer usually comes around shortly after. Simply head to your preferred shopping portal and look for a tab titled "Holiday Deals." That's you'll find offers like this. It's an easy way to get a few more bonus points out of your spending this holiday season.
To make sure you're earning the most points possible, type in your favorite merchant name into Cashback Monitor. The site will generate a list of the highest shopping portal payouts, broken down by cash back, miles and points.
Use your rewards to cover travel for maximum savings
Traveling during the holidays can be a hectic and expensive experience. This is when a lot of people will likely try to dip into their frequent flyer miles to maximize savings. While that's generally a smart move, it could cost you if you're using a fare-based program like Southwest or JetBlue. These airlines determine award redemption rates by price and demand, which as you can imagine skyrockets during peak holiday travel season.
What you'll want to do instead is check award availability through programs that haven't implemented dynamic or fare-based pricing. American and Alaska Airlines, for example, still publish an award chart. While you may not be able to score saver award space, at least you'll know what to expect with their higher-tier redemption rates. But either way, it's always worth comparing the cost with miles to the cash price of the ticket to make sure you're getting relatively good value for our miles. Check out our points and miles values for a baseline value you should aim for.
The holidays might also be the time to put companion passes to use. The most famous one is the Southwest Companion Pass, which is issued to those who earn 110,000 miles in a calendar year. That number is increasing to 125,000 in January. However, you might also be able to save some money using the Alaska Companion Fare. It's issued to Alaska Airlines Visa Signature® credit card holders when they meet the initial card spending requirements and is reissued on an annual basis. A companion ticket using the Alaska Companion Fare will set you back just $99 plus taxes and fees.
Use your rewards to cover unexpected expenses
According to American Express, 86% of Americans with rewards reported being more likely to earn points during the holidays than to redeem them. That makes sense — people are going to spend a lot of money and probably won't have a chance to redeem them just yet. But what about redeeming points for purchases? After all, if you're not redeeming points for travel, should you use them to offset extra holiday expenses?
Both the American Express Membership Rewards and Chase Ultimate Rewards® programs allow cardholders to redeem points for statement credits. This can be a nice way to offset holiday purchases that exceed your budget.
Chase lets you redeem points for statement credits at a rate of 1 cent per point, while American Express offers 0.6 cent per point. Considering that NerdWallet values Chase Ultimate Rewards® points at 1.25 cents while Membership Rewards come in at 1 cent per point, these sound like pretty bad redemptions. But we'll let you in on a secret: Points are meant to be used to save you money. So whether you're using them on a vacation to Bora Bora or covering extra spending to stay on budget, do what works for you.
Maximize charitable contributions
This time of year the giving spirit is high, with 73% of Americans reporting plans to donate to charity. If you plan on making a charitable donation, you may be able to earn more than just the points from your credit card: American Airlines is offering $10 miles per $1 on donations of $25 or more to Stand Up to Cancer.
United is currently partnering with the National Foundation for Cancer Research to offer up to 13.5 miles per $1 on donations to the organization.
How to Maximize Your Rewards